This program meets on Wednesday's in Springfield VA
Our Future Primitives- Primitive Skills & Leadership Training Program enures that your teen ages 12-17 will have the necessary life skills and leadership training to successfully transition from adolescence to adulthood. While participating in this 10 week program we will use ancient and modern life skills and technologies to guide your teen toward becoming a confident leader and a self motivated reliable team player. Using ancestral mentoring practices and a mix of earth based and modern living skills we will walk the razors edge of the modern and ancient world. Working from this place allows for guided growth through the challenges of daily life and the power that comes from the freedom of choice. Participants will learn advanced life skills of our ancestors that provided a healthy relationship between ones self and the earth.
When: 11am-4pm every other Wednesday. Please refer to our calendar for specific dates. Program begins Feb 14th
Ages: 12-17
Registration Fee: $650 (includes $150 materials and tool fee)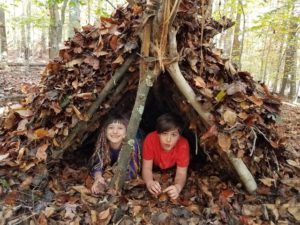 The Home School Naturalist Program uses nature observation, awareness and earth based skills to prepare your child for a world of adventure, discovery, independence, and leadership while inspiring a passion to learn. We also guide our participants to a higher level of awareness for the earth's delicate environment and its ecosystems.
This program focuses on cultivating the existing passions found in children, their desire to learn and their innate love of nature. We then add layers of hands-on experience in naturalist and wilderness skills. These skills include: tree & plant ID, natural fibers, sensory awareness, emergency fire building, lost proofing, wild food gathering and preparation, animal tracking & ID, practical camping skills & more. These skills are the foundation that we build upon as your child advances each season through the many different levels of this program.
All first time students receive the following; Nature Journal, Carving Knife, and AK (returning students will receive a nature journal)
This is a drop off program with age appropriate activities.
Location: Lake Accotink
When: Wednesday's 10am-3pm once a week for 7 meetings (please refer to our calendar above for the exact dates)
Ages: 7 -14 (Must be of age at start of the program)
We have several discounts available

10% family discount* with two siblings or more use coupon code: family
10% first timer discount* when you attend your first full session with us, use coupon code: trial
Discounts will not apply if you register without codes.  One discount applies at a time. referrals must be registered and list you as referrer.
Registration fee: $350 
How to register and pay:

Paying in full With Credit Card - Submit your registration below and submit payment.
 Pay by Check - Submit your registration below and choose "pay by check" under the PayPal button.