We just finished our largest ever Wilderness Survival Weekend class, and from my point of view as an instructor it was a resounding success.  Our goal as instructors is always for our students to learn and practice physical skills, but also to find or recover new parts of themselves, and to develop new relationships with other people and the Earth.  On both counts this class was outstanding.
The large size of this group (16 students, 4 instructors) really pushed us to fit everything into the class, but also created a higher level of intensity and a more dynamic learning community.  In the end we covered the primary skills we set out to teach including nature awareness, shelter building and firemaking, and still had time to cover elements of water purification, trapping, hunting, edible wild plants and cordage.
Friday night as we sat around the fire several students asked about skinning and processing animals, and whether they would have the opportunity to learn that skill.  I dutifully scanned the highway for roadkills on the way to class but didn't find any good ones, so assumed we would not.  Earth Mother, it seems, had other plans, as Saturday afternoon two students in the class discovered a young spike buck dead in the woods, from whom we subsequently harvested a beautiful hide that Hannah and I will be tanning this week.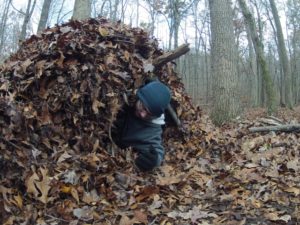 Every student worked diligently all day Saturday on their debris huts, which were built in threes to share insulation on adjoining walls.  This was the first time most students had tried to build their own shelter and sleep in it, and impressively everyone did.  Shelter may seem like a simple skill, but those who have "slept" in a poorly designed one know otherwise.  Nonetheless, sleeping in your own debris hut is simply one of the most rewarding and empowering things a person can experience, and one of the very best ways to experience truly being close to Earth Mother.  Before bed the instructors shared a few stories of their successes and many failures, prepared some pine needle tea, and the group headed out to greet the night.
Sunday morning we cooked on the fire again and then focused on bow drill.  Quite a few people succeeded in getting a bow drill fire started, including several first timers.  More importantly, everyone learned and got several steps closer to the skill level they desire, which in the end is far better than any specific end result.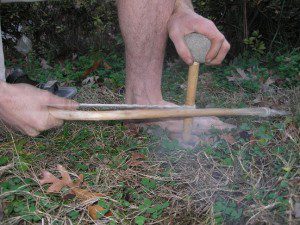 Finally, I want to commend the students in this class again on their outstanding attitude and spirit of teamwork and cooperation.  Working in small groups can be challenging, but I saw many friendships started and lots of laughter as I wandered between the debris hut sites.  When you're used to living in a house with electricity, a toilet and refrigerator, being in the woods can always produce a little discomfort, but this class had an overwhelmingly positive attitude, which always makes for a better experience.  Can't wait to do it again!