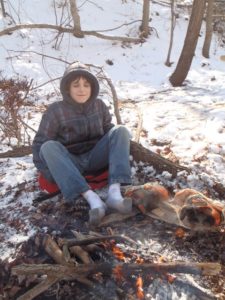 We encourage everyone to get out and enjoy the outdoors during the winter time.  However everyone responds to cold temperatures differently. Keeping feet, hands, and clothing dry is very important because toes and fingers are most susceptible to damage from the cold. Whenever possible carry an extra pair of socks in case your feet get wet and a couple plastic shopping bags to put over the dry socks to avoid the boots saturating the dry socks. Wet feet, hands, and clothing need to be addressed in a timely fashion because wet clothing will cause you to lose warmth. If you get wet its best to get indoors or change those layers. If that's not possible build a fire to warm up and dry out those wet clothes.  Being prepared and dressing properly will allow for hours of winter fun and exploration!
The follow descriptions will help you dress for various cold weather conditions.
The Base Layers – The first layer of clothing closest to the skin should be a type of long underwear or base layer. They should be lightweight, comfortable and cozy. Try to avoid cotton because it holds moisture and can become heavy and cold if wet. Wool or synthetic blends of clothing are the best materials. You'll find long underwear available at various prices and styles. One trick is to use synthetic sweat pants or tights if you don't have a base layer available.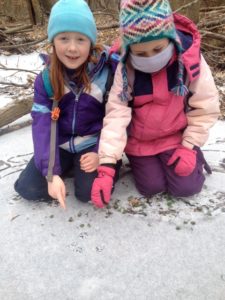 The Extra Insulation Layers – The insulated layer of clothing is worn over long underwear for extra warmth. Materials such as a fleece jackets or wool sweaters are great. Again avoid cotton if you can because its fibers soak up water and become heavy making you feel wet and cold. During the coldest temperatures multiple layers may be necessary.  The best thing about layering is that you can add or shed a layer depending on your comfort level.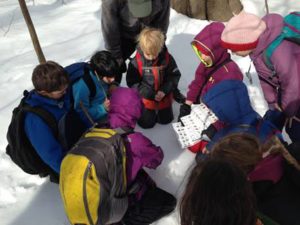 The Outer Layer (Outer winter coats and Snow pants) – The outer layer or shell should be waterproof, providing protection from wind, rain and snow. Waterproof shells typically have minimal insulation so they can be worn over the inner layers without being too balky . You'll find outer shells in both jackets and pants, making them ideal for a number of cold-weather activities. Your winter coat should have a hood, be wind-resistant, water-repellent and breathable. Down jackets, filled with goose feathers, are excellent for warmth but need to be protected in wet weather with a rain jacket.  Fleece-lined ski jackets are excellent also. One-piece snowsuits might be appropriate for kids who spend all day outdoors in the winter. Snowsuits are highly water-resistant and provide the maximum protection from the wet snow.
Winter Hats, Neck warmers, and Face-masks – Half of your body heat is lost through your head. Traditional scarves, neck warmers, hats and face masks help keep your face and body warmer by stopping valuable heat loss from the head and neck. Wool, synthetic or fur are the preferred materials.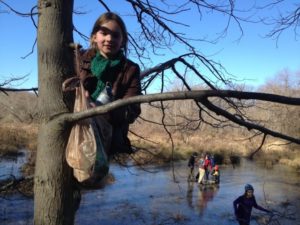 Gloves and Mittens – Cold hands can ruin a day. It best to have water-resistant mittens, which keeps hands warmer than gloves.   Gloves, however allow for more dexterity. In wet snow or rain water resistant material is important. Fleece and wool mittens become useless when wet.  Wet gloves don't keep hands warm unless you dry them out.  Insulating your wrists aids dramatically in keeping you hands warm. Old wool socks with the toes cut out and a thumb hole added make great wrist gators.  Wearing water proof mittens with a glove liner gives you the ability to have both warmth and mobility when needed.
Socks and Boots – Instead of cotton socks opt for polyester and wool-blended socks that keep toes insulated even when damp with sweat or wet from snow. You want waterproof or resistant boots. Make sure they are not too snug. Go up a size when buying winter boots to compensate for thick wool socks.
REI has a good reference page on layering.
Most of these items can be found at thrift stores. If you wish to purchase new items, REI, Dick's Sporting Goods, Hudson Outdoor, Gander Mountain, and other outdoor and camping stores all sell these items. Target sells poly-pro long underwear in kids sizes.