Woods Wise I - (June 18-22)
Description: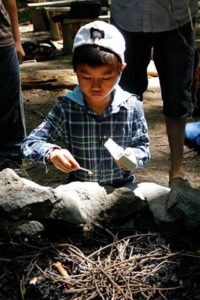 Come explore our natural surroundings, becoming more comfortable in the wilderness. As we wander and explore our local forests, this nature program provides an exciting week of discovery, adventure and games. In this safe learning environment, with experienced instructors, our participants will learn several ancient & practical skills like; how to blend and flow within nature, build a proper camp fire, make natural cordage, track animals, basic wilderness survival techniques, and lost proofing.  The campers will work together in small groups honing their awareness and connecting with the natural world.
We are sure that becoming Woods Wise will be an experience your kids will never forget.
Time: 9am-4pm M-F
Ages: 7 years and older (we recommend that kids under 10 repeat this camp to master the foundation skills before taking Woods Wise II)
Registration Fee: $275
Aftercare is available from 4:16-5:45pm is available each day. There is an additional $35 fee for the week. Please sign up for aftercare when you check in.
We have several discounts available

10% Family Discount*  With two or more siblings attending the same camp, use Coupon Code; family

10% Multiple Camps Discount*  When you register for two or more camps use the code: multi

Early Bird Discount  receive and additional 5% if you register before 3/31/18)
*Only one coupon code can be used at a time. Discounts will not apply if you register without codes. 
Day Camp Location
40 Ridge Road
Greenbelt
MD
20770
Map and Directions
Sara Henry - Instructor
Sara learned how to make baskets in 2011 from Nancy Basket, and she's been hooked ever since. Each time she saw Nancy at a gathering afterward, she would show her the new baskets she had made and Nancy would critique them, giving her tough love advice on how she could improve. It was a big day for Sara when, while she was assisting Nancy in teaching at the Firefly Gathering intensives, she showed Nancy a basket and the feedback she received was a firm "good." She has been teaching several styles of basketry for over two years at gatherings across the southeast. She is passionate about empowering students to go out into the forest and experiment with what they find in their own bioregions. So much beautiful and functional art can be created if we open up and play with the natural materials all around us!
Lindsey"Z"Maglietta - Instructor
Z has been inspired by nature since she was a little girl in growing up in New Jersey. Her fondest memories of her childhood were out in the forest and hiking through streams. She followed her feet to Richard Stockton College of NJ where she earned her Bachelors of Science in Biology and Environmental Science. Here, she was active in the environmental community; organizing clean ups and teaching children water education throughout Atlantic County. Encouraged to pursue education, Z went to Islandwood in Washington State to learn how to be an outdoor educator. Here, she met instructors from the Wilderness Awareness School (WAS) and was introduced to Coyote Teachings and Primitive Skills. She took her excitement for the environment to California, where she spent six years seasonally working at Whiskeytown Environmental School (WES) in Shasta County. At WES she began fusing her background in Science and teaching with the practical skills of homesteading and ancestral teaching.
In her spare time, Z enjoys knitting, sewing by hand, sewing with machine, animal processing, re-purposing materials for use and art, picking up trash, photography, dancing, singing, roller skating, and just creating things in general.
Bill Kaczor - Founder/ CEO 2007-Present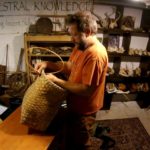 Bill is the CEO and one of the original founders of Ancestral Knowledge. Bill has worked and studied intensively with the masters in the fields of; youth mentoring, naturalist studies, primitive technology, wilderness survival, and tracking. He has been teaching children and adults in these subjects since 1996 — For five years Bill worked as head instructor for the Children of the Earth Foundations- Coyote Tracks summer camps, and two years as the assistant director. He has instructed students at the University of Maryland, Georgetown University, Rivercane and Falling Leaves Rendezvous, Mid-Atlantic Primitive Skills Gathering (MAPS Meet), and Roots Rendezvous. Bill has instructed for 5 years at Tom Brown Jr.'s Tracker School teaching primitive traps, bow making, flint knapping, pottery and hide tanning. In 1999, Bill chose to leave his skateboard/snowboard business and dedicate his life to teaching these skills and connecting people with the natural world. Shortly afterward, Bill designed and was granted an after school and summer program for the 21st Century Learning Community in Public School District 150 in Peoria, Illinois. This program was successful in that it led the children to a respect for nature, respect for themselves and others, self-discipline and adventure. Bill is a specialist in bow making, stone tool technologies, hide tanning, fire by friction and hunting.
Event Registration and Ticketing Powered by Event Espresso