Fire by Friction- The Bow Drill Method
Description:
Come and learn the ancient art of fire by friction and ignite the fire within you. This workshop is a tutorial in bow drill fire making and the importance of learning how to create fire.
While on this quest for fire you will;
Learn basic knife safety
Learn several carving techniques
Carve and construct your own bow drill kit
Learn the proper techniques for starting a friction fire
Learn how to identify the plants that contain the natural fibers and how to make rope with them
Learn proper material identification and selection,
Learn proper fire structures, and tinder collection.
Experience creating fire for the very first time just as your ancestors did.
Time: 10 am-5pm
Materials, tools and technical bow drill tips included. We will share stories of why fire making is culturally important and is needed in wilderness programs.
Please bring a sharp knife (if you have one), notebook and pen, lunch, and water bottle. (we will have knives available for use and sale)
Workshop Location
4004 31st Street
Mount Rainier
MD
20712
Map and Directions
Bill Kaczor - Founder/ CEO 2007-Present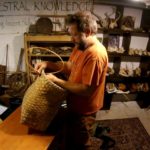 Bill is the CEO and one of the original founders of Ancestral Knowledge. Bill has worked and studied intensively with the masters in the fields of; youth mentoring, naturalist studies, primitive technology, wilderness survival, and tracking. He has been teaching children and adults in these subjects since 1996 — For five years Bill worked as head instructor for the Children of the Earth Foundations- Coyote Tracks summer camps, and two years as the assistant director. He has instructed students at the University of Maryland, Georgetown University, Rivercane and Falling Leaves Rendezvous, Mid-Atlantic Primitive Skills Gathering (MAPS Meet), and Roots Rendezvous. Bill has instructed for 5 years at Tom Brown Jr.'s Tracker School teaching primitive traps, bow making, flint knapping, pottery and hide tanning. In 1999, Bill chose to leave his skateboard/snowboard business and dedicate his life to teaching these skills and connecting people with the natural world. Shortly afterward, Bill designed and was granted an after school and summer program for the 21st Century Learning Community in Public School District 150 in Peoria, Illinois. This program was successful in that it led the children to a respect for nature, respect for themselves and others, self-discipline and adventure. Bill is a specialist in bow making, stone tool technologies, hide tanning, fire by friction and hunting.
Event Registration and Ticketing Powered by Event Espresso