Earth Skills or Wilderness Experience Overnight Camp (July 15-20)
Description: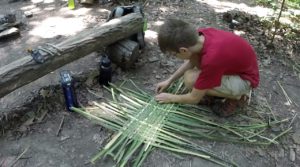 In the Earth Skills Camp you will learn the ancient skills that our ancestors used to thrive in nature on a daily basis. Each camper will develop the focus and confidence that these skills unleash!
This camp features advanced skills like primitive pottery, archery, stone tools, hide-tanning and overnight mock survival experiences. We will wander to our favorite fishing spots and cool off while exploring our secluded mountains streams and waterfalls. 
*To participate in the Earth Skills Camp, you must first take the Wilderness Experience Camp.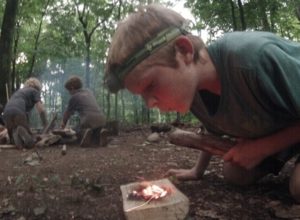 The Wilderness Experience Camp is the foundation to our overnight camps. While attending this week-long overnight camp, everyone will build their own friction fire kit and survival shelter.  Campers will also learn; ancient navigational skills, how to cook over a campfire, and how to make their own utensils, . We will wander to our favorite fishing spots and cool off while exploring the secluded mountains streams and waterfalls.  Oh and for those who like a challenge, the SCOUT LOG!
This experience will expand your child's comfort and confidence levels, build self esteem, confidence, problem solving skills, and will create an appreciation for life and nature as we camp in the Shenandoah Mountains on a 1400-acre private wilderness sanctuary near Harpers Ferry, WV.
Students will come home empowered with an unprecedented wealth of ancient knowledge, hands-on experience and hand-crafted items.
If your child isn't comfortable camping yet, we recommend they attend our Youth Day Camps first.
Register for an Overnight Adventure!
Ages: 10 and Older
Drop off: 4-5pm Sunday
Pick up: 11am Friday
Registration Fee: $600
We have several discounts available

10% family discount* (with two siblings or more, use code: family)
10% multiple camp discount* (sign up for both overnight camps, use code: multi)
10% referral discount* (Referral must be registered and list you as the referrer. Use code: friend)
5% early bird discount (Automatic discount if your register before 3/31/18)
*Discounts will not apply if you register without codes. One discount applies at a time in addition to the Early Bird.
Register for this Overnight Adventure!
Still Point Primitive Camp
This is the general location of the property. You will receive more accurate directions when you register.
1681 Patriots Way
Harpers Ferry
West Virginia
25425
Map and Directions
Tim Murphy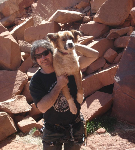 My name is Tim Murphy and I am a newer instructor with AK. I am originally from the Washington DC area and have spent the majority of my adult life exploring the American west. I have a BA in Wilderness Leadership (Prescott College '99) and have guided in both adventure education programs and wilderness therapy. The majority of my carer has been working in various capacities in wilderness therapy. I have guided in Montana, Utah, Colorado, and Vermont. I have over 1300 field days working with groups in the woods. Working with AK I am learning to work with a younger population than I have worked with in the past. I recently returned to the DC are to be closer to family and to attend the University of Maryland Baltimore School of Social Work in the fall.
Sara Henry - Instructor
Sara learned how to make baskets in 2011 from Nancy Basket, and she's been hooked ever since. Each time she saw Nancy at a gathering afterward, she would show her the new baskets she had made and Nancy would critique them, giving her tough love advice on how she could improve. It was a big day for Sara when, while she was assisting Nancy in teaching at the Firefly Gathering intensives, she showed Nancy a basket and the feedback she received was a firm "good." She has been teaching several styles of basketry for over two years at gatherings across the southeast. She is passionate about empowering students to go out into the forest and experiment with what they find in their own bioregions. So much beautiful and functional art can be created if we open up and play with the natural materials all around us!
Lindsey"Z"Maglietta - Instructor
Z has been inspired by nature since she was a little girl in growing up in New Jersey. Her fondest memories of her childhood were out in the forest and hiking through streams. She followed her feet to Richard Stockton College of NJ where she earned her Bachelors of Science in Biology and Environmental Science. Here, she was active in the environmental community; organizing clean ups and teaching children water education throughout Atlantic County. Encouraged to pursue education, Z went to Islandwood in Washington State to learn how to be an outdoor educator. Here, she met instructors from the Wilderness Awareness School (WAS) and was introduced to Coyote Teachings and Primitive Skills. She took her excitement for the environment to California, where she spent six years seasonally working at Whiskeytown Environmental School (WES) in Shasta County. At WES she began fusing her background in Science and teaching with the practical skills of homesteading and ancestral teaching.
In her spare time, Z enjoys knitting, sewing by hand, sewing with machine, animal processing, re-purposing materials for use and art, picking up trash, photography, dancing, singing, roller skating, and just creating things in general.
Bill Kaczor - Founder/ CEO 2007-Present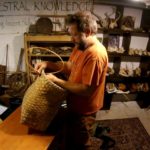 Bill is the CEO and one of the original founders of Ancestral Knowledge. Bill has worked and studied intensively with the masters in the fields of; youth mentoring, naturalist studies, primitive technology, wilderness survival, and tracking. He has been teaching children and adults in these subjects since 1996 — For five years Bill worked as head instructor for the Children of the Earth Foundations- Coyote Tracks summer camps, and two years as the assistant director. He has instructed students at the University of Maryland, Georgetown University, Rivercane and Falling Leaves Rendezvous, Mid-Atlantic Primitive Skills Gathering (MAPS Meet), and Roots Rendezvous. Bill has instructed for 5 years at Tom Brown Jr.'s Tracker School teaching primitive traps, bow making, flint knapping, pottery and hide tanning. In 1999, Bill chose to leave his skateboard/snowboard business and dedicate his life to teaching these skills and connecting people with the natural world. Shortly afterward, Bill designed and was granted an after school and summer program for the 21st Century Learning Community in Public School District 150 in Peoria, Illinois. This program was successful in that it led the children to a respect for nature, respect for themselves and others, self-discipline and adventure. Bill is a specialist in bow making, stone tool technologies, hide tanning, fire by friction and hunting.
Event Registration and Ticketing Powered by Event Espresso