Homeschool Naturalist Program- Greenbelt (Jan 10-31)
Description: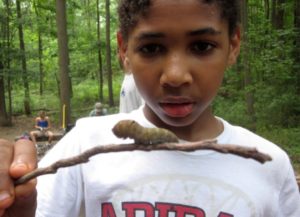 The Home School Naturalist Program uses nature observation, awareness and earth based skills to introduce your child to a world of adventure and discovery!
This program focuses on cultivating the existing passions found in children, their natural curiosity and their innate love of nature. We then add layers of hands-on experience in naturalist and wilderness skills including; tree & plant ID, natural fibers, sensory awareness, emergency fire building, lost proofing, wild food gathering and preparation, animal tracking & ID, practical camping skills & more. These skills are the foundation that we build upon as your child advances each season through the many different levels of this program.
This is a drop off program with age appropriate activities.
When: Wednesday's 10am-3pm once a week for 4 meetings (please refer to our calendar above for the exact dates)
Ages: 7 -14 (Must be of age at start of the program)
Registration fee: $200 (Winter Special 10% off before Dec 31st)

How to register and pay:

Paying in full With Credit Card - Submit your registration below and submit payment.

All students receive a nature Journal
Attention
We're sorry. Either an error occurred or the event(s) you were attempting to register for may no longer be open for registration.
Greenbelt Meeting Place
40 Ridge Road
Greenbelt
MD
20770
USA
Map and Directions
Lindsey"Z"Maglietta - Instructor
Z has been inspired by nature since she was a little girl in growing up in New Jersey. Her fondest memories of her childhood were out in the forest and hiking through streams. She followed her feet to Richard Stockton College of NJ where she earned her Bachelors of Science in Biology and Environmental Science. Here, she was active in the environmental community; organizing clean ups and teaching children water education throughout Atlantic County. Encouraged to pursue education, Z went to Islandwood in Washington State to learn how to be an outdoor educator. Here, she met instructors from the Wilderness Awareness School (WAS) and was introduced to Coyote Teachings and Primitive Skills. She took her excitement for the environment to California, where she spent six years seasonally working at Whiskeytown Environmental School (WES) in Shasta County. At WES she began fusing her background in Science and teaching with the practical skills of homesteading and ancestral teaching.
In her spare time, Z enjoys knitting, sewing by hand, sewing with machine, animal processing, re-purposing materials for use and art, picking up trash, photography, dancing, singing, roller skating, and just creating things in general.
Bill Kaczor - Founder/ CEO 2007-Present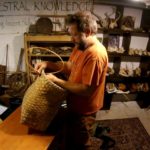 Bill is the CEO and one of the original founders of Ancestral Knowledge. Bill has worked and studied intensively with the masters in the fields of; youth mentoring, naturalist studies, primitive technology, wilderness survival, and tracking. He has been teaching children and adults in these subjects since 1996 — For five years Bill worked as head instructor for the Children of the Earth Foundations- Coyote Tracks summer camps, and two years as the assistant director. He has instructed students at the University of Maryland, Georgetown University, Rivercane and Falling Leaves Rendezvous, Mid-Atlantic Primitive Skills Gathering (MAPS Meet), and Roots Rendezvous. Bill has instructed for 5 years at Tom Brown Jr.'s Tracker School teaching primitive traps, bow making, flint knapping, pottery and hide tanning. In 1999, Bill chose to leave his skateboard/snowboard business and dedicate his life to teaching these skills and connecting people with the natural world. Shortly afterward, Bill designed and was granted an after school and summer program for the 21st Century Learning Community in Public School District 150 in Peoria, Illinois. This program was successful in that it led the children to a respect for nature, respect for themselves and others, self-discipline and adventure. Bill is a specialist in bow making, stone tool technologies, hide tanning, fire by friction and hunting.
Event Registration and Ticketing Powered by Event Espresso