MAPS Meet - Mid Atlantic Primitive Skills Gathering
Description: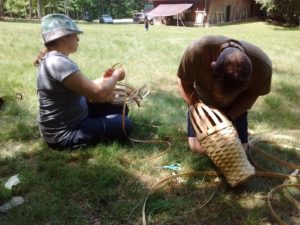 The Mid-Atlantic Primitive Skills Gathering (MAPS Meet) is the perfect place to disconnect from the stress of modern life and reconnect to the natural world. If you are a seasoned outdoors person or a novice, we have a host of expert instructors who will teach you on your level of understanding. There are over 100 workshops available in many topics including; primitive skills and technology, food storage, herbalism, bushcraft, hunting, wilderness survival, earth based skills, nature awareness, and more. Take a gander at our schedule of workshops.  2018 Schedule coming soon!
Get a taste of the Mid-Atlantic Regions premier skills gathering when you read this article featured in The Washington Post Magazine .
MAPS Meet will be held May 25-28th. Attendees can check in on Thursday evening from 4:00pm or later. A large selection of workshops will be held throughout the day beginning Friday morning, and will continue through the afternoon of Monday the 28th. 
This gathering has limited spaces available and you must preregister to attend the event.

You and your family will benefit from attending this event in so many ways;
Over 100 different workshops for adults to attend!
Daily Youth Programs for the kids!
You will meet new people with shared interests!
You will learn and experience ancient traditional skills !
You will discover skills and abilities you didn't know you had!
You will be immersed  in the beauty and tranquility of the oldest mountains in the world!
You will connect on a deeper level with your family and friends over the knowledge and skills of our ancestors!
We serve you breakfast and dinner!
You will make memories that will last a lifetime!
You will learn vital life skills that have been passed down for generations!
You will make a deep nature connection!
You will be learning from the experts in the field!
"The first time we came to this event it was our vacation, now its our tradition" - Unknown 2016

The MAPS Meet is a community based event that has met annually since 2002.  At 17 years it is the second longest running skills gathering on the East Coast.  The MAPS Meet is conveniently located to MD/VA/DC in the scenic Shenandoah Mountains on the border of Virginia and West Virginia along the Shenandoah River.
Location:  FLOC Outdoor Education Center 671 FLOC Way Harpers Ferry, WV 25425  .
10% off Pre-Registration Discount until 12-31-17. Families of four or more can receive 10% off of the total registration! Please contact us for the coupon code (does not apply during Pre-Registration discount period)

| | | | | |
| --- | --- | --- | --- | --- |
| Event Fees: | Ages 12-70 | Ages 7-11 | Ages 4-6 | Ages 71+ |
| Friday-Monday | $225 | $150 | $50 | Free |
| Fri- Sun or Sat-Mon | $175 | $125 | $35 | Free |
| Saturday-Sunday | $125 | $100 | $25 | Free |
| | | | | |
| | | | | | |
| --- | --- | --- | --- | --- | --- |
| Meals Included: | Thur | Fri | Sat | Sun | Mon |
| Breakfast 7:30-8:15am | | ✔ | ✔ | ✔ | ✔ |
| Dinner 6:15-7:15pm | ✔ | ✔ | ✔ | ✔ | |
Participants provide their own lunches. There is space for coolers to be stored.
Additional event details will be provided to all registered attendees prior to the event.
Lodging
We recommend that you bring your own tent or tipi to the Mid-Atlantic Primitive Skills Gathering. However, if you don't have a tent, for an additional fee there are some accommodations available for groups & individuals.
- Camping- you are welcome to set up a tent in the designated camping areas. Camping fees are included in your registration fee. If you don't have camping equipment tents, sleeping pads, and sleeping bags are available from FLOC for $20/group of four. (equipment is limited please contact us for availability)
- Screened cabins sleep up to 6 people. cabins are shared not private. space is limited to 48 bunks total. Cabin rental fees are; $20/person/night to reserve a bed (fee applies to ages 7 and older).
Cabins must be reserved prior to the event.
Cabins come with cots and mattresses. You will need to bring your own sleeping bags, sheets and pillows to use with the cots.
All lodgings must be swept and cleaned before you leave.

To reserve lodging you may have to return to this page after registering for the event and click the button below.
Work Trade Program
There are 10 Work Trade positions available for the Mid Atlantic Primitive skills Gathering. Work Trade is a great way to participate in the event and support the community and event. When you participate in the Work Trade program you must be available from 1pm May 23rd through May 30th at 4pm. If you are interested in a work trade position please contact us and register for the event as a work trader.
MAPS Meet at FLOC
671 FLOC Way
Harpers Ferry
WV
25425
USA
Map and Directions
Event Registration and Ticketing Powered by Event Espresso