Foraging through the Seasons - A Wild Foods and Foraging Intensive
Description: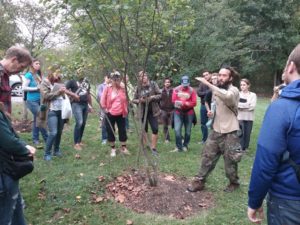 This is a hands-on experiential workshop series that empowers people to connect more deeply with plants. We will gather and process wild food, prepare herbal remedies, explore the ecology and learn how we can help habitats to thrive.
Students will walk away herbal extracts, native seeds, new recipes, and prepared foods to share with their loved ones.
When: 12 - 5pm (schedule and topics listed in description)
Locations: We will explore several wild place located in; Greenbelt, Bowie, and Glenn Dale, MD
Payment Options: Pay in full with a credit card when you submit your registration-OR- after submitting your registration return to this page and choose the payment plan below.
Schedule and Topics:
4/15 Pesto Gone Wild
We'll head into the woods in search of wild greens, the first forage of the season. Once we've found a nice amount we'll head to a preparation space where we will turn our wild greens in a delicious, nutritious, affordable and convenient pesto.
5/13 Morel Madness
Mushrooms can be quite fickle and very dependent on the weather, but finding morels will be our primary focus. At the end of the day, if we are lucky enough to find them, we will fry up the one of my absolute favorite wild treats.
6/10 Late Spring Fritters
Elder flowers and cattail pollen conveniently happen at the same time, and in very similar habitats. On this walk we will go out and gather cattail pollen and elder flowers then form them into deep fried elder flower fritters.
7/15 Berry Bonanza
This foraging mission will focus on wild berries. The wine berries will be in full swing and we may even encounter some ripe blueberries. After the hike I will demonstrate how to turn your berries into a natural soda or flavorful mead. We will also get sample berry fruit leather and see how it's made.
8/12 Elderberry Elixir
In this walk we will revisit the elderberry in its fruiting stage. After gathering we will make our own elderberry elixir to share with our friends and family.
9/9 The Mystery Month
With the way weather patterns are changing it is difficult to say what the best forages will during the first week of September, so we will stay open to flow and seek out whatever blessings our surroundings may offer.
10/14 The Mighty Maitake
In Japan it's name translates as "the dance for joy mushroom" and it is very aptly named. This is hands down my favorite wild mushroom and hunting it each fall is one of my top priorities. I will be sharing a known spot and we seek out all the fungal treasures the fall has to offer. Beyond maitake this time of year brings us honey mushrooms, blewits, chicken of the woods, shrimp of the woods, oyster mushrooms, lions mane, and several other gourmet mushrooms. Bring a basket and a knife for this walk!
11/11 The Roots of Creation
In this walk we will focus on roots, the last forage of the year. We will dig several species of wood roots then roast and/or fry them up to taste the treasures that are hidden beneath our feet.
Meet your instructor:
Event Registration and Ticketing Powered by Event Espresso