Youth Fire by Friction Workshop - The Bow Drill Method (Feb 18 & 25)
Description: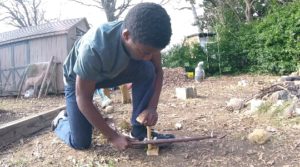 Come and learn the ancient art of fire by friction and ignite the fire within you. This 2-day workshop focuses on friction fire by the bow drill method and includes several other skills such as proper knife carving and fire building. Learning how to make a friction fire opens a vast world of possibilities and will give you a new appreciation for the art of fire making and tending.
Time: 12 pm-5pm
Ages: 12 and older
Rain Dates: in the event of inclement weather on either Feb 18th or 25th, the rescheduled date will be Sunday March 4th.
While on this quest for fire you will;
Experience creating friction fire for the very first time just as your ancestors did.
Learn basic knife safety.
Learn several carving techniques.
Carve and construct your own bow drill kit.
Learn the proper techniques for starting a friction fire.
Learn proper material identification and selection,
Learn proper fire structures, tinder collection and fire tending.
Learn how to identify the plants that contain natural fibers and how to make rope with them. (time permitting)
Materials, tools and technical bow drill tips included. You will go home with your very own bow drill kit and the skills and knowledge to crate a friction fire! We will share stories of why fire making is culturally important and is needed in wilderness programs.
Please bring a sharp knife (if you have one), notebook and pen, snack, and water bottle. (we will have knives available for use and sale)
Workshop Location
4004 31st Street
Mount Rainier
MD
20712
Map and Directions
Matt Colombo - Instructor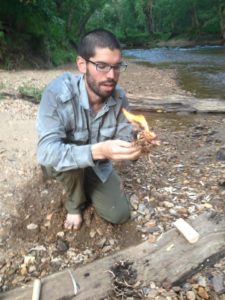 "Matt is deeply interested in sustainable living and connecting with that which sustains him. He has been a teacher and facilitator in many different arenas - drum instructor, naturalist, tutor, mentor, organizational development specialist - for the past 15 years. He has been practicing and teaching primitive/wilderness and self-sufficiency skills, such as bow hunting, fire making, foraging, animal processing, and food preparation, since 2015. Matt can be found in the woods, kitchen, or garden when not inside his cubicle! He has a PhD in Environmental Science from Rutgers University, New Jersey. You can follow his rewilding journey at http://transitionrewild.blogspot.com and read a review of one of his classes at http://knowledgecommonsdc.org/blog/heighten-your-senses-nature/."
Event Registration and Ticketing Powered by Event Espresso