Bring the Ancestral Knowledge outdoor education experience to your school, group, or organizations. We offer programs, presentations, field trips, and hands-on workshops that are fun and engaging for all ages.
Hands-ON Demonstrations
Our Presentations are one of a kind!  We present a combination of natural displays and primitive survival skills demonstrations. Our displays include handcrafted primitive tools such as; bows and arrows, natural baskets, utensils, cordage, stone tools, and much more. Our presentations are student interactive as we pass around many primitive tools and natural materials for discussion and investigation, at the same time engaging students with questions about each item. Finally we stimulate the students' ancestral knowledge by involving them in a primitive skill, like a fire by friction demonstration in which we recreate the magic of primitive fire as if it was discovered for the first time.
We can come to your location for a half or full day of presentations.
Pricing: 1-3 hours $375, 4-6 hours $525
Field Trips
Our field trips take you deep into the forests of our local park systems to explore the ecosystems within. While participating in our field trips the students are assured to lean several nature based skills including; animal tracking techniques, nature awareness, plant and tree identification, and basic survival skills.  Students will also learn how to move in the forest properly to increase animal sightings.  Toward the end of the trip several primitive skills are demonstrated including fire by friction and basic stone tool making.  Time permitted, the students will have a chance to try their luck at making a fire by friction, the way our ancestors used to do it.
Customized Field Trip Pricing; $375 (8-14 participants), $575 (15-24 participants), $775 (25-40 participants)
Custom Workshops and Programs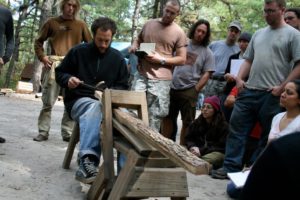 Are you interested in exposing your class or group to ancient life skills?  Look no further, Ancestral Knowledge offers a wide range of primitive, traditional, and nature based skills programs and workshops.    We offer our unique outdoor education programs to the Boy/Girl Scouts of America, Public/Private/Charter Schools, Homeschool groups and Universities.  We design a programs that suit your specific needs. Topics include but aren't limited to; nature awareness, basketry, soap stone carving, natural fiber technology, bow and arrow production, stone tools (flint knapping), hide tanning, pottery,wilderness survival, animal tracking, and wild edible plants.
We can work one-on-one or with large and small groups of youth and adult participants.
Custom program pricing per day: 8-14 participants $375 (1 instructor), 15-24 $575 (2 instructors), 25-40 $775, (3 instructors) These prices are subject to change based on subject matter and material fees
Please contact us if you would like more information or want us to customize a demonstration or program for you!