Future Primitives- Primitive Skills & Leadership Training for Teens
Description:
Our Future Primitives- Primitive Skills & Leadership Training Program enures that your teen ages 12-17 will have the necessary life skills and leadership training to successfully transition from adolescence to adulthood. While participating in this 10 week program we will use ancient and modern life skills and technologies to guide your teen toward becoming a confident leader and a self motivated reliable team player. Using ancestral mentoring practices and a mix of earth based and modern living skills we will walk the razors edge of the modern and ancient world. Working from this place allows for guided growth through the challenges of daily life and the power that comes from the freedom of choice. Participants will learn advanced life skills of our ancestors that provided a healthy relationship between ones self and the earth.
When: 11am-4pm every other Wednesday. Please refer to our calendar for specific dates. Program begins Feb 14th
Ages: 12-17
Registration Fee: $650 (includes $150 materials and tool fee)
Discounts available for this program;
10% family discount* (with two siblings or more)
What to expect: We are offering two 10 week sessions each year that are packed with hands-on experiential learning and wilderness exploration. Each session will be focused on advanced wilderness skills. We will offer a list of core skills for each participant to choose from.   Each session the participant is responsible for setting their skill goals and seeing them through.
What you Can Learn during the Future Primitives Program;
Bow and Arrow Making - Learn the process of Making a hunting weight bow from beginning to end
Natural Gardening Practices- Create and maintain a garden using natural methods to grow your own food.
Archery - Learn proper form and techniques to become an efficient and accurate shooter
Woodcraft - Learn basic to advanced techniques of wood working from tree felling to carving.
Natural Basketry - Learn splint, bark, and pine needle baskets
Stone Tool Making Learn the fine art of stone tool making to produce arrowheads, spear points, axes and adzes
Fire by Friction - build your own fire by friction bow drill kit and learn several other advanced techniques of fire making
Emergency Wilderness Survival
Primitive Fishing
Natural Leather Making - Learn how to take an animal skin through the process to create soft durable buckskin
Gathering and Preparing Meals - Learn proper food collection, preparation and open fire cooking techniques
Animal Tracking - Learn to track animals, read sign, and understand the language of the birds
Edible Plants and Useful Plants - Learn many useful plants from our region that not only can feed you but also provide medicine and other resources
Stalking and Movement - Learn how to move silently and undetected through the forest to become the ultimate hunter gatherer.
Primitive Pottery- learn how to locate clay sources and make earthenware right out of the ground.
Primitive Hunting and Trapping
Long Term Wilderness Living
Felting
Natural Fibers and Weaving - Learn different natural fibers and how to turn them into string and weave
Basic Carpentry Skills
DIY Skills
And Much More....
Workshop Location
4004 31st Street
Mount Rainier
MD
20712
Map and Directions
Bill Kaczor - Founder/ CEO 2007-Present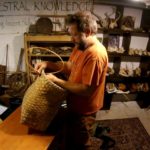 Bill is the CEO and one of the original founders of Ancestral Knowledge. Bill has worked and studied intensively with the masters in the fields of; youth mentoring, naturalist studies, primitive technology, wilderness survival, and tracking. He has been teaching children and adults in these subjects since 1996 — For five years Bill worked as head instructor for the Children of the Earth Foundations- Coyote Tracks summer camps, and two years as the assistant director. He has instructed students at the University of Maryland, Georgetown University, Rivercane and Falling Leaves Rendezvous, Mid-Atlantic Primitive Skills Gathering (MAPS Meet), and Roots Rendezvous. Bill has instructed for 5 years at Tom Brown Jr.'s Tracker School teaching primitive traps, bow making, flint knapping, pottery and hide tanning. In 1999, Bill chose to leave his skateboard/snowboard business and dedicate his life to teaching these skills and connecting people with the natural world. Shortly afterward, Bill designed and was granted an after school and summer program for the 21st Century Learning Community in Public School District 150 in Peoria, Illinois. This program was successful in that it led the children to a respect for nature, respect for themselves and others, self-discipline and adventure. Bill is a specialist in bow making, stone tool technologies, hide tanning, fire by friction and hunting.
Event Registration and Ticketing Powered by Event Espresso